MOBILE JUSTICE DC
Download the app for your Android here
Download the app for your iPhone here
 What does the Mobile Justice DC smartphone app do? 
The app, available in both the Google Android and Apple iOS stores, allows users to record law enforcement, to alert other Mobile Justice DC app users to nearby law enforcement encounters, and to submit videos and incident reports automatically to the American Civil Liberties Union of the District of Columbia (ACLU-DC). Individuals who believe that they have witnessed a civil rights violation can complete an incident report and send it to the ACLU-DC for review, along with their contact information, for follow-up.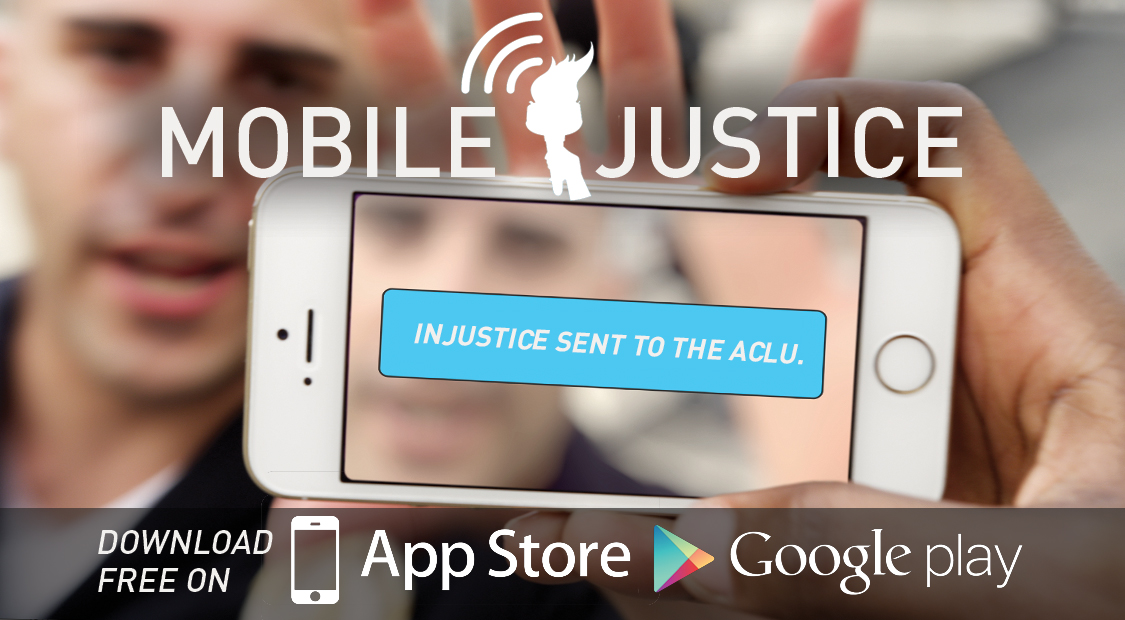 How does it work?
The American Civil Liberties Union of District of Columbia (ACLU-DC) Mobile Justice smart phone application was created to empower individuals to hold District of Columbia law enforcement agencies accountable for their actions. The application has four main features: 
RECORD - allows individuals to capture exchanges between police officers and themselves or other community members in video files that are automatically emailed to the ACLU-DC. 

WITNESS - gives individuals the option to alert nearby Mobile Justice Application users when they are stopped by police in order to witness and document the interaction. 

REPORT - gives individuals the option to provide a more-detailed account of their interactions with police in an incident report, which will be transmitted directly to the ACLU-DC.
KNOW YOUR RIGHTS - provides an overview of your rights when encountering law enforcement.
Click here to watch a 'how to' video.
Why is Mobile Justice DC important? 
From Rodney King to Eric Garner, to Jason Goolsby, bystander videos have helped draw document police abuse and have led to change.  Video can provide strong evidence of police abuse, especially compared to encounters where it is the word of officers against the word of criminal suspects.  Even where officers aren't criminally charged, videos of egregious cases of policing abuse have led to national conversation on issues around use of force and the role of race in policing, and have led to changes in police departments like the adoption of civilian oversight.  Mobile Justice DC will make sure that bystander video is preserved even if police attempt to seize the phone or delete the files, and will help ensure video evidence of police abuse gets to the ACLU and civil rights community organizations that can use it to make change.
LEARN MORE!
Click here to view FAQs
Click here to view your Rights
Click here to view Mobile Justice apps in other states